The Belgian round of Lommel saw the comeback of Horgmo on the podium of the EMX250 Championship, as the Norwegian ranked 3rd Overall. Good performances for Adamo in MX2 and for Forato in MXGP, as they both entered the points-area in both races.

The sixth appointment of the FIM Motocross World Championship was hosted at the Lommel circuit on the weekend between July and August. The circuit is known as difficult and technical, surfaced with sand. The weekend of the Belgian GP also included the third round of the EMX250 Championship so, consequently, SM Action GasGas Racing Team Yuasa Battery was already working on Saturday to support Kevin Horgmo #240, who is 2nd in the General Classification and is not far away from the leader.

Divided into two groups, the young riders of the EMX250 Championship had to gain the qualification to the race while trying to enter the 40 fastest lap times. Kevin was assigned to group 2, and he made two excellent sessions as he qualified 2nd in both, gaining the 4th starting gate for the races.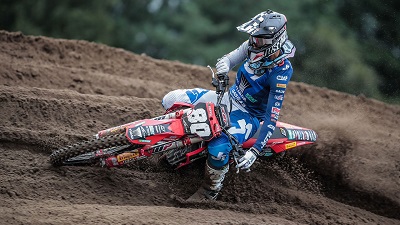 In Race 1 Kevin made an excellent start as he gained 2nd place straight away. After a few laps, Horgmo got closer to the leader and at lap 7 he overtook him and conquered the lead. Rapidly Kevin put some gap but his leadership lasted only one lap. During lap 8, the GasGas rider lost control of his bike and finished out of the track. His bike was significantly damaged but he went back on the circuit and, thanks to the gap that he gained earlier, he managed to finish the race in 4th place. In Race 2 Kevin made a good start again, as he was in 2nd place straight away, but he positioned 3rd during lap 2. In the remaining laps of the race, Horgmo rode smoothly and avoided mistakes, so he confirmed his 3rd place at the checkered flag. At the end of the day Kevin classified 3rd Overall and, thanks to the points that he gained, he well preserved his 2nd place in the General Classification.

On Sunday, Andrea Adamo #80 (MX2) and Alberto Forato #303 (MXGP) went on track.
In MX2, the Sicilian made the 14th fastest lap time in Free Practice, while he finished 23rd in the following Timed Practice. In both races, which were disputed on a very difficult surface with the weather that changed from rain to sun so quickly, Andrea had a regular pace and never forced it as he tried to avoid mistakes, which, on the sanded surface of Lommel, are really frequent. The final result is 18th place in both races, a performance that delivered to the GasGas rider the 18th position Overall. In the General Classification Andrea is still 15th.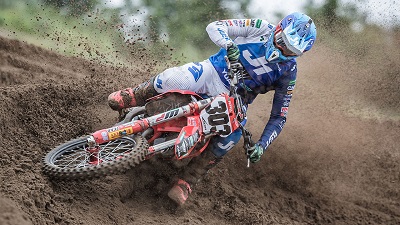 In MXGP, Alberto started his Sunday with 16th place in both Free and Timed Practices. In both races, then, the rider from Veneto was always positioned in the "top 20" at the end of the beginning lap, and despite the difficult weather conditions, which created a lot of issues for everybody, his pace was clean. For the first time of the season, Forato gained points in both races as he finished both times in 14th place. At the end of the day, he was 15th Overall, while he gained one position in the General Classification as he is now 25th.

The seventh round of the FIM Motocross World Championship, which will include the fourth round of the EMX250 Championship too, will take place the next weekend at the Kegums circuit, in Latvia.

Alberto Forato #303: "It was a difficult but nice weekend. In Qualifying, I made a good lap as I finished 16th. In Race 1 I had a bad start, I tried to recover but under the rain, I was forced to take off my goggles so my race got complicated, and I finished 14th. In Race 2 I repeated the same performance and I finished again in 14th position. Finally two good results in one GP. See you next time."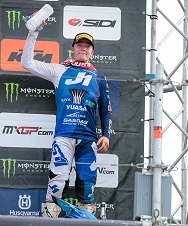 Source: https://mailchi.mp/c636559783e6/sm-action-gasgas-racing-team-yuasa-battery-press-release?e=7734f3af1b