Adamo and Forato were fast in the GP of Italy at Maggiora, but too many mistakes due to the mud made them finish out of the "top 10" of the day. In the EMX250 Tuani had a positive day, as he gained points in both races. Ruffini made two good starts but many mistakes too.

FIM Motocross World Championship, for its seventh round of the year, went back to one of the most famous circuits in the world, the "Mottaccio del Balmone" track at Maggiora, in the Piemonte region. The circuit has a very traditional layout which was modernized in a few jumps' geometries. The weather added some difficulties to the already challenging track, as an intense rain dropped for the whole night of Saturday. As a result, the surface was perfect on Saturday but a real quagmire on Sunday.

The EMX250 Championship was racing for its third round too, so SM Action GasGas Racing Team Yuasa Battery deployed Andrea Adamo #80 (MX2), Alberto Forato #303 (MXGP), Federico Tuani (EMX250) and Luca Ruffini #669 (EMX250).

In the EMX250 Championship Federico started his Saturday with the 17th fastest lap time in Free Practice and the 21st in Timed Practice. In Race 1 Tuani had a good start and he kept P14 until lap 5. In the remaining laps, though, his riding did not allow him to keep that position, so he finished in 17th place. On Sunday it was a whole other story. In a hell of mud, the guys started the race and Federico entered the "top 10" straight away. He then did not make any mistakes, and he finished a difficult race in the "top 10" for the first time of the season, ending in P8. Thanks to the points gained, he finished 12th Overall and he entered the General Classification in the 23rd position.

For Luca, at Maggiora, was again a weekend to make the experience. After the 25th place in Free Practice, the GasGas rider finished in 30th place in Quali. His races, though, were heavily penalized by mistakes and slips. Despite two good starts, Ruffini did not take advantage of them to gain points. In Race 1 he slipped when he was in P14 and he finished in 28th position. In Race 2 he made contact with another rider right after the start, when he was in the "top 5", and then another contact when he was making up positions, so he finished again in 28th place. The weekend for him ended with the 30th position but no points were gained.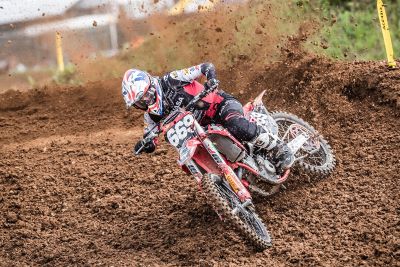 In the MX2, at the end of Free and Timed Practices, Andrea made the 11th and the 13th fastest lap time respectively. In the following Qualifying Race, Adamo had a good start and he completed the whole race staying in the "top 10", finishing 7th and showing a good speed. On Sunday, though, the track condition was completely twisted, and all the references were gone. In Race 1 Andrea made a good start but a few corners after he was involved in multiple crashes. He restarted in the back places but he made up for it and he finished in P10. In Race 2 Andrea was straight away in the top riders group but on lap 6, when he was in 5th place, he made two mistakes in a row and he then finished the race in P16. He ranked 12th Overall and he was able to keep his 8th position in the General Classification.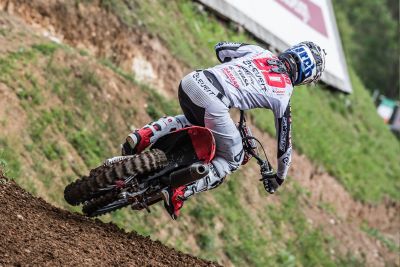 Forato's weekend, in the MXGP, was heavily influenced by bad luck and crashes too. On Saturday it all went good for him: he was in P9 in Free Practice and 11th in Timed Practice. In the Qualifying Race, he started in the "top 10" and he finished 9th. On Sunday, though, the insidious track surface caused him to make a mistake. In Race 1 the GasGas rider was 9th at lap 5, but he has a technical problem with his bike anche he was forced to retire. In Race 2 his amazing performance was interrupted during lap 6 when he was in P5 and slipped again. Alberto restarted in the very back, and he finished in 13th place. He ranked 15th Overall and he lost one position in the General Classification, as he is now 10th.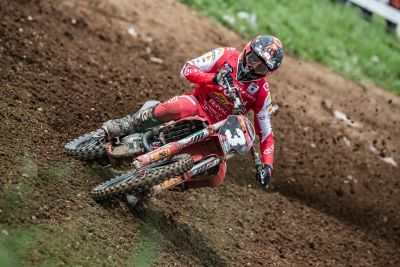 With no weekends of stop, the FIM Motocross World Championship will stay in Italy but will move to Sardinia, for the GP of Sardinia, which will take place on the sand-surfaced circuit of Riola Sardo. Other than usual riders, the EMX250 Championship will be there too, together with the girls of the WMX Championship.

Andrea Adamo #80: "It was a complicated weekend due to a bit of bad luck and mistakes. I had the speed to make a good result, but I didn't manage to make it happen, and this is not good. I need to be more concentrated and work on that."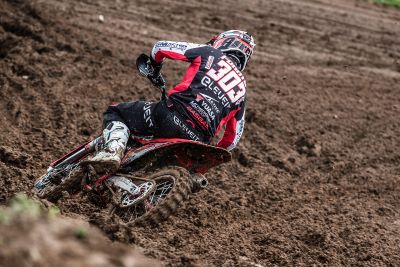 Federico Tuani #3: "This weekend we made a little step forward again. On Saturday, in Race 1, I made a good start but my riding and my speed were not the best, so I finished 17th. In Race 2 the circuit was very selective. It was fundamental to make a good start and not make mistakes. I managed to do both things and, advantaged by a few crashes of my opponents, I finished 8th and 12th Overall. I keep growing and I'm confident for the round at Riola Sardo. I want to thank those who help and supports me".

Luca Ruffini #669: "On Saturday, in Free Practice, I already made a good approach with the track. In Qualifying, though, I didn't manage to make it better than P30. In Race 1 I made a good start but when I was 14th I slipped and I moved back to P28. In Race 2, in the mud, I made an excellent start and I was 4th, but I made contact with another rider at the first corner and I restarted in last place. Thanks to a good recovery I moved up to P22, but another contact moved me back again to P28. I had a good pace but too many crashes. It's all experience for me…I will now look forward to the weekend at Riola Sardo".
Source : https://mailchi.mp/9bdf9a2cb9a1/sm-action-gasgas-racing-team-yuasa-battery-press-release?e=7734f3af1b