At Riola Sardo, good start of the season for SM Action GasGas Racing Team Yuasa Battery. Forato finished in the "top 5" of the MX2 ahead of Adamo who finished 6th; a crash forced Horgmo to retire. In the "Supercampione" Race good 7th place for Forato. Adamo and Horgmo entered the "Top 20".

After the long winter preparation, as usual in the last years, the racing season has started in Sardinia, Italy, with the first round of the Internazionali d'Italia Motocross, on the difficult and selective circuit "Le Dune" of Riola Sardo, in the province of Oristano.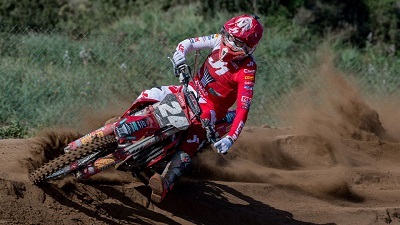 SM Action GasGas Racing Team Yuasa Battery, guided by the Emilian duo composed by Emanuele Giovannelli and Matteo Migliori, which has two-thirds of the line up as new, with a new bike and new colors, went there in "Full Force" mode, deploying its three riders in the MX2 class: the two Italians Alberto Forato #303 and Andrea Adamo #80, and the Norwegian Kevin Horgmo #24.

Since Timed Practice the guys showed speed and confidence on the soft sanded surface of the track: Horgmo signed the 6th fastest lap, while Adamo was 8th and Forato was 12th.

In the afternoon the riders went on the grid for the only Race that guaranteed access to the Supercampione Race to the first 18 riders in the standings. Horgmo started well and after lap 1 he was 5th; at lap 2 he gained 4th place but at the end of lap 4 he made a mistake and he was pushed out of the possible podium places. Adamo settled a little bit further back than his teammate, but regularity made him move from the 6th to the 4th place in a few laps. During the last laps, unfortunately, a loss of pace allowed two contenders to overtake him, so he was 6th at the finish line. Forato did not make a good start, and after lap 1 he was 15th. His progression to the top places, though, was unceasing, and lap by lap Alberto moved positions and finished in 5th place.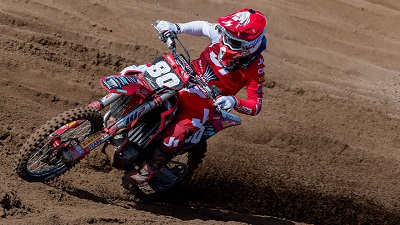 In the Supercampione Race, the highlight was once again Alberto, with a beautiful comeback from the 16th to 7th position. Andrea did not repeat the quick start of the previous race and he was 12th after lap 1. In the first half of the race he moved up a few places, but after that he regained the 12th place with 5 laps to go, his pace slowed down and he finished 17th. Kevin, despite retiring in the MX2 Race, was admitted to the Supercampione, but he made a bad start and after lap 1 he was way out of the "top 20". His comeback, though, was constant and at the end of the race, he finished in 20th place.
The second round of the Internazionali d'Italia Motocross will take place next weekend at the "Lazzaretto" circuit in Alghero, province of Sassari.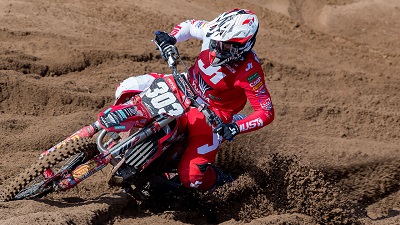 Andrea Adamo #80: "After all it was a positive day. I did a good Qualifying and a well behaved in Race 1. I Hoped that I could jump on the podium but I had a physical down at the end of the race. After a year with no races, I lost a bit of my race pace, so the down that I had is more than normal. In the Supercampione, instead, I tried to enjoy the race, giving it all but not forcing too much."

Alberto Forato #303: "The first race here in Riola went quite well. In the MX2 race, I fell off in lap 1 after a contact with the bike of a rider who crashed in front of me. I stood up again and I made a good comeback to the 5th place. In the Supercampione, I had a very bad start but I recovered well and I finished 7th. After all, it was a good start of the season. See you next time."
Source: https://mailchi.mp/bc5228b03996/sm-action-gasgas-racing-team-yuasa-battery-press-release?e=7734f3af1b